Walkthrough provided by Denticon directly (modified afterwards for Apteryx Help Center formatting).
Denticon Integration Instructions
If the person is using Google Chrome, they'll need to have the Denticon Bridge Service installed and running. To install it, go to the Help & Support section of the Help tab within Denticon, and click on "Denticon X-Ray Bridge Integration."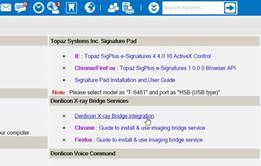 You will also want to confirm that the registry key is set up in the right location.
For 64-bit machines:
Computer\HKEY_LOCAL_MACHINE\SOFTWARE\WOW6432Node\Apteryx\ApplicationLocations
For 32-bit machines:
Computer\HKEY_LOCAL_MACHINE\SOFTWARE\Apteryx\ApplicationLocations
The String value entry:


Once the Denticon Bridge Service is fully installed, you'll want to make sure that there is a tooth icon running in the task bar:


There will also be a shortcut on their desktop:


At this point, you should be able to bridge to DentirayCapture/XrayVision DCV successfully from Chrome. As a byproduct, you should also be able to bridge from Internet Explorer, provided that you accept the ActiveX prompts when making the attempt.
Article Version 1.0 2019.11.1