FDA Information:

Pearl AI is a computer aided detection ("CADe") software to identify and mark regions in relation to suspected dental findings which include Caries, Discrepancy at the margin of an existing restoration, Calculus, Periapical radiolucency, Crown (metal, including zirconia & non-metal), Filling (metal & non-metal), Root Canal, Bridge, and Implants. It is designed to aid dental health professionals to review bitewing and periapical radiographs of permanent teeth in patients 12 years of age or older as a second reader.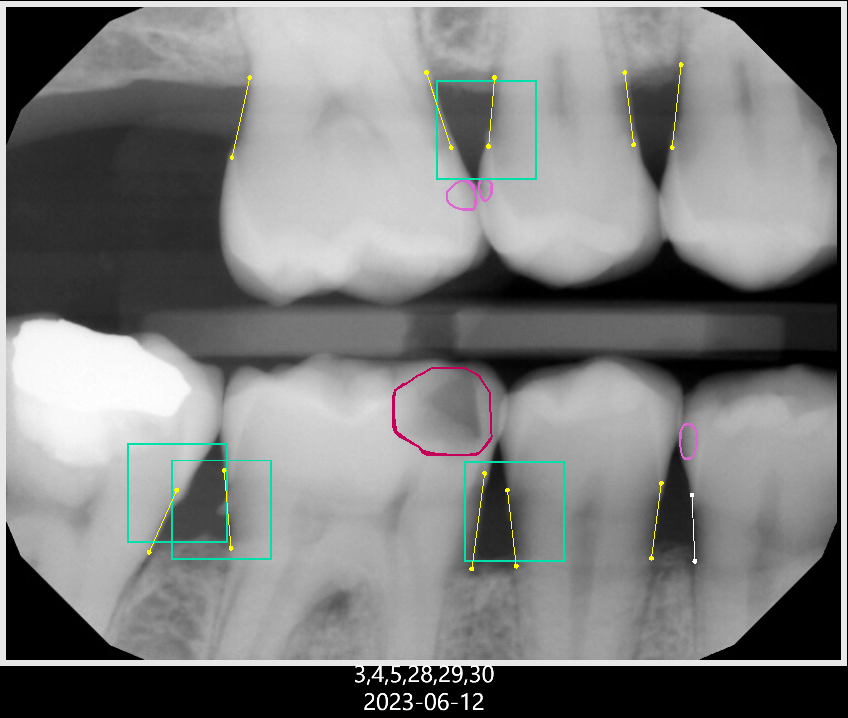 Label Color Information:
Detections: If there are no results for a particular detection, the detection will not appear. Expand the drop-downs below to view the various detections and how they display when found.
Caries - Carious lesions are pink polygons.

Lighter pink

indicates caries that are fully in enamel


Deeper pink

indicates caries that are encroaching into dentin, pulp, or cementum

Calculus - Calculus spurs are boxed in

light green
Notable Margins - Open margins, overhangs, and underhangs are boxed in

purple
Periapical Radiolucency - PA Lesions are boxed in

blue
Bone Levels - White,

yellow

, and amber

orange

2.5mm and under are white Above 2.5 mm to 4mm are

yellow

Above 4mm are amber

orange


Pearl AI does not highlight egregious calculus

Frequently Asked Questions:
What is AI:
AI stands for artificial intelligence. It refers to the ability of machines and computer systems to perform tasks that typically require human intelligence. AI can assist dentists in making more accurate diagnoses and treatment plans.


How to think of AI in your practice:
Pearl thinks of AI in dentistry as a complement to the human. It is not the human vs. the AI but rather the human PLUS the AI working together. The AI is here to be your digital assistant. The doctor is always the first opinion and has the final say.
AI is great at sensitivity. Computers can see 800 different shades of gray while our eyes can only see 40-70. What this means is it may find lesions before our human eyes can see them. AI is great, and AI is accurate, but AI is not perfect. AI is here to point out areas of interest, it is not here to tell you where to drill. For instance, if you see caries this doesn't mean you need to treat it, it means we want you to look at the area and review the finding to determine the best course of action. Even if you agree that the AI is correctly highlighting caries, it doesn't mean you need to treat it. You may choose to remineralize or educate based on your review of the area of interest.


Bone Level Measurements:
Bone measurements are looking at the measurement of bone from the CEJ to the crest to aid in assessing the health of the bone around the tooth. We use millimeter measurements. This is not looking at probing depths.


FDA Clearance Ages:
All of Pearl AI's FDA clearances apply to ages 12 and older.


Caries Detections:
Pearl can detect both incipient lesions and gross decay.