In order for XVCapture/DCV to know where the Carestream/Kodak drivers are installed, it needs to be pointed to the proper directory.
If you have seen the following error during capture, XVCapture cannot find the Kodak drivers on your computer.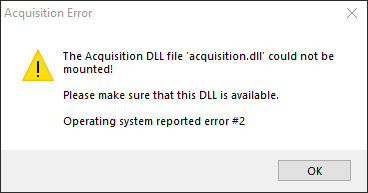 Begin by opening the main menu and selecting Advanced User tools > Preferences

Input the password. By default the password is AKRON

Once inside the preferences, select 'Imaging Extensions' on the left hand toolbar
Click the red caret (

>

) next to Digital X-ray Image Capture to expand your extension options

Select the Kodak Universal Digital X-ray extension

Select Miscellaneous Settings

Enter the driver path in the 'Kodak Acquisition SDK Location"

The path entered here depends on your computer's OS type
64 bit computers (most common) use the following path


C:\Program Files(x86)\Common Files\Trophy\Acquisition

32 bit computers use the following path


C:\Program Files\Common Files\Trophy\Acquisition
If issues persist, verify the drivers are in fact installed on the computer. If they are not, your IT or Carestream/Kodak will need to assist you in downloading and installing the drivers for your computer.
Article Version 1.0 2021.05.14