The two most common reasons for slow layout capture are persistent saving, and Real Time Filters (RTFs)
Disabling Persistent Layout Saving
By default, after each tile is captured, the layout is saved. The following change will disable saving until the layout capture has completed or the user has stopped layout capture.
Navigate to Tools > Options

On the left hand bar select 'Safety'

Uncheck 'Automatically save layouts/groups after each new image capture'
Select 'OK'
Repeat this process on any computer you wish to disable the persistent layout saving on
Disabling Real Time Filters
Real Time Filters are typically enabled to improve image quality. Disabling RTFs will likely change image quality.
To check if an RTF is in use on your computer, look at the bottom of the application. If it says 'No Real-Time Filter' then the RTF is not in use, and this section of this article will not apply to you.
If an RTF is enabled the active RTF will be shown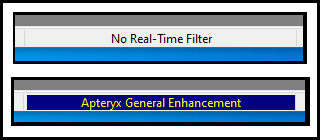 The Apteryx RTF system relies on your computer's graphics capabilities to process image enhancements. If your computer does not have a dedicated graphics card, XrayVision will use the integrated graphics on your computer which is typically slower.
It is recommended that if you use Real Time Filters for diagnosis, to only toggle on the RTF during diagnosis, and keeping it off otherwise if RTFs are a source of application slowness.
To toggle the RTF off, click the blue RTF at the bottom of the application and select 'No Real-Time Filter'
When diagnosing, toggle your preferred RTF back on.
Article Version 1.1 2022.04.12